What's on in Hawke's Bay
Find out what events are on in Hawke's Bay, Napier, Hastings, Central Hawke's Bay and Wairoa. If you need to know what's on this is the place to look. If you are after council meetings view our meetings calendar.
Does not include exhibitions or workshops. You can view these by selecting them on the menu to the left.
Jazz Gala: Jazz Dave Weckl, Tony Lindsay, Adam Schroeder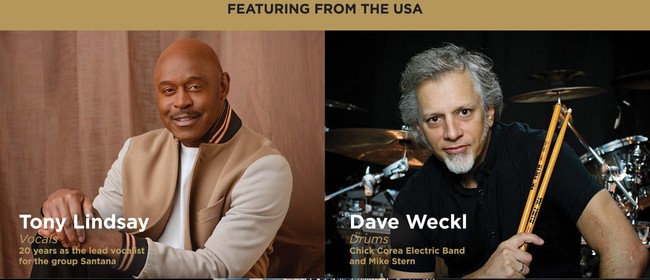 Jazz Gala '17.

Dave Weckl:
For more than 25 years, Dave Weckl has developed and maintained a reputation among fans, peers, and the international music community as one of the great living drummers. For this, he has received numerous accolades and honors; Modern Drummer inducted Dave into their Hall of Fame and named him "one of the 25 best drummers of all time."

He performs with the Chick Corea Electric Band, Mike Stern Trio and has featured with artists such as Paul Simon. Madonna, George Benson, Michel Camilo, Robert Plant, Anthony Jackson and The GRP All-star Big Band.

Tony Lindsay - After 20 years as the lead vocalist for the group Santana, Tony has garnered 11 Grammy Awards, travelled on several world tours and recorded on seven CDs: Milagro (1992), Supernatural (1999), Shaman (2002), Ceremony (2003), Food for Thought (2004), Ultimate Santana (2007) and Multi-Dimensional Warrior (2008). He is currently recording his fourth solo CD.

Adam Schroeder – Los Angeles-based baritone saxophonist Adam Schroeder has firmly established his influential voice as a major force in the global jazz community. Recognised as a "Rising Star" on the Baritone Saxophone in Down Beat Magazine's 59th Annual Critic's Poll as well as in the 76th, 79th and 80th Annual Reader's Poll and the JazzEd Magazine 2014 Readers Poll, A member of the Gordon Goodwin's Big Phat Band

Alex Sipiagin – Trumpet. Jazz festivals worldwide have seen Alex Sipiagin performing with the likes of Dave Holland, Michael Brecker, the Mingus groups. Born in Russia, Alex begun studying trumpet at age 12. In 1990, Alex participated in the International Louis Armstrong Competition sponsored by the Thelonius Monk Institute in Washington D.C. winning top honours. He then relocated to the jazz mecca of the world, New York City.

In concert with the Rodger Fox Big Band.
Phone: 06 835 1059
When
Sunday 4 June, 8:00pm to 10:20pm
Cost
Where
MTG Century Theatre, Napier, Hawke's Bay / Gisborne
9 Herschell Street, Napier, Hawke's Bay / Gisborne